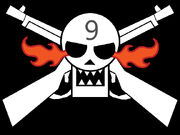 The name Fire Eye comes from the surprisingly orange colored eyes of the captain Jet Jenkins​.  Aside from the natural color of Jet's eyes, the Fire Eye pirates name also symbolizes the fire within each member to accomplish their dreams.  
The crew's ship is decadent and interesting.  It has two hulls in fact.  The primary hull which touches the sea and then a second hull 6 inches inwards of the first.  Between the two hulls is dirt and tree roots.  The tree roots come from the mighty Redwood tree that acts not only as a living part of the ship, but the main mast as well.  The tree's roots go all throughout the ship and help to make it living, stronger, and different.  
| Name | Occupation |
| --- | --- |
| Jet Jenkins | Pirate Captain |
| Holt Hormiga | Zoologist and First Mate |
| Vincent Soru | Navigator |
| Blaine Hikari | Historian |
| Zaruza Killio | Warrior |
| Diego Beyett | Warrior |
| Maxwell Vallance | Warrior |
| Meatloaf | Chef |
Ad blocker interference detected!
Wikia is a free-to-use site that makes money from advertising. We have a modified experience for viewers using ad blockers

Wikia is not accessible if you've made further modifications. Remove the custom ad blocker rule(s) and the page will load as expected.