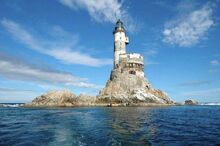 Raisin Rock is a small island on the Berry Atoll archipelago. It holds the very old Berry Lighthouse, where sailors used to rest in order to count and compare the value of their merchandise in Bellis, the origin of the Berry Atoll archipelago. Since the Great Pirate Era, that tradition has been more or less put on hold, due to the amount of larceny attempts.
The enormous lighthouse is manned by a crew of two dozen, who sleep inside the lighthouse itself. A large aquarium is the only source of distraction on the island.
Ad blocker interference detected!
Wikia is a free-to-use site that makes money from advertising. We have a modified experience for viewers using ad blockers

Wikia is not accessible if you've made further modifications. Remove the custom ad blocker rule(s) and the page will load as expected.